Two lectures by two visiting PhD students at Ghent University
Tuesday 13 June 2023, 10h00-12h00 am
ULB, Brussels, campus Solbosch, room AY2.107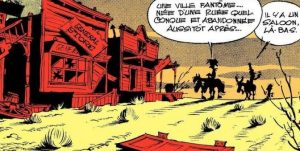 Illustration © Dupuis 2023 Goscinny/Morris
The Imaginary Wild West: Transnational Tropes and the Franco-Belgian Cowboys as a Tool of Self-Reflection (a lecture by Audrey Garcia, University of California, Irvine)
Narrating Uncertainty through Comics: Precarious Times and Ghostly Worlds in Citéville and Citéruin by Jérôme Dubois (a lecture by Rodolfo Dal Canto, University of L'Aquila)
Abstracts
The Imaginary Wild West: Transnational Tropes and the Franco-Belgian Cowboys as a Tool of Self-Reflection (a lecture by Audrey Garcia, University of California, Irvine)
This project focuses on the trope of the Western and the Western cowboy firstly as a tool for transnational exchange and also for exploring national imaginaries, specifically, projections of Franco-Belgian identity. In this study, the prominence of the American cowboy rises to the forefront as I present the cowboy and the mythological West to be a "safe space" for Belgian comics to explore their relation to power and its identity through a third party. Because the mythologized West is an adaptable stage found within the adventure genre, it has potential to convey localized ideologies. Cowboys' unique openness results from the fact that the "American" cowboy is truly not American at all; cowboys popularized by cinema are based on Italian Spaghetti Westerns or are inspired by tales of Mexican 'vaqueros'. Therefore, the cowboy is a figment of imagination rooted in idealism and a mythologized version of the American West. The inherent transnationality of cowboys creates a figure capable of becoming adapted by any specific culture. The transnationalism of cowboys and geographic distance of its setting allows the genre to be used as a tool of fantasy that removes itself directly while maintaining its Franco-Belgian characteristics. Furthermore, the ability for these figures to travel internationally allows it to open pathways for various social commentary and expansion into new iterations of the trope.
Narrating Uncertainty through Comics: Precarious Times and Ghostly Worlds in Citéville and Citéruin by Jérôme Dubois (a lecture by Rodolfo Dal Canto, PhD student at the University of L'Aquila)
In 2020, French cartoonist Jérôme Dubois simultaneously published a couple of comics for two different publishing houses: Citéville, brought out by Cornélius, and Citéruin, released by Éditions Matière. The former features nine short chapters set in a major urban center, Citéville: here the characters are victims of various forms of systemic violence, within dynamics that border on dystopia. Citéruin looks like the same comic, with the division into short stories with the same title, identical layout and framing, with one fundamental change: the streets of Citéville are deserted, completely devoid of human presence, and the buildings seem to have been abandoned long ago or struck by a sudden catastrophe. Jérôme Dubois' double work shows different levels of precariousness, which turn out to coexist in a layered dialogue. On the one hand, Citéville shows through a grotesque style some characteristics peculiar to our contemporary times, such as job precariousness or the difficulty of building a future within dynamics that are as rigid as they are absurd; on the other hand, Citéruin stages, through a story told by subtraction, the existential uncertainty of humanity as a whole. Through an original use of tools proper to the comic medium, the author makes human presence coexist with his own absence, inviting reflection on the time and space we inhabit, and the ruin inscribed in them. The presentation will navigate through these intersections, analyzing the two texts using an approach that links the themes related to ecocriticism, posthumanism, and precarity with the formal strategies through which they are told, using a medium-specific approach.